Employee Engagement
2022 Sustainability Report
Material Topic: Employee Engagement



2-7 Employees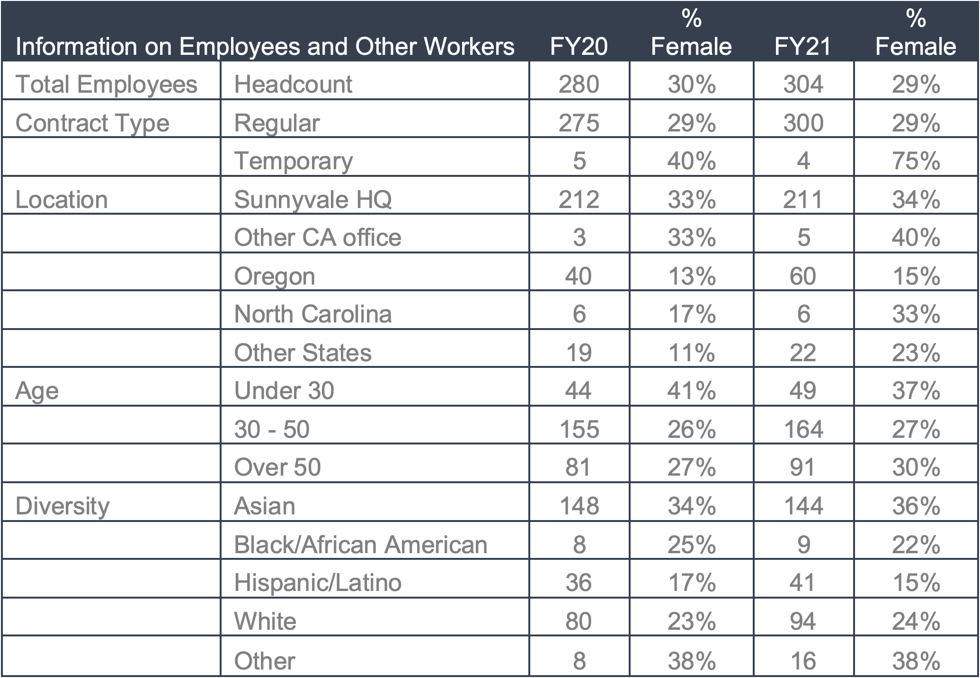 GRI 3-3 Management of Material Topic – Employee Engagement
Employees are the cornerstone of a learning organization. To operate and be successful on the leading edge of innovation, JSR needs engaged employees who are open to continuously learning and developing.
To ensure that JSR is a learning and developing organization that invests in its growth and vitality of its employees. JSR does this through:
• Providing effective training programs for employee development and performance management
• Hiring the best candidates, retaining top talent, and supporting poor performers
• Maintaining, updating, implementing, and communicating HR policies and procedures


GRI 404-3 (2016) Percentage of employees receiving regular performance and career development reviews


100% of JSR's employees have a development plan that helps them plan for career development throughout their time at JSR.


Projects Undertaken during the reporting period:


Internal Communications: Intranet Modernization
In FY2020, JSR introduced a new intranet platform that provides a host of benefits, including a personalized view of key information for each employee and an Executive Corner enabling top management to communicate critical messages across the organization. The new platform helps reduce email traffic because employees can share and archive information. Since the platform also works on mobile devices, it is accessible by employees that have not been issued company laptops. Throughout the pandemic, the new intranet was especially useful. Not only did it facilitate pandemic policy-related communications, but it also helped employees continue to feel engaged while working from home.
Digital Bulletin Boards
As the pandemic evolved and on-site policies continued to adjust, it became increasingly important to ensure that employees had the most up-to-date information. To facilitate reaching everyone, JSR added television screens throughout its facilities and deployed OptiSigns, a software product that enables communication on smart televisions in breakrooms, meeting rooms, and hallways. Because the software is simple to use, several departments, including EH&S, Communications, and Quality, can display critical information in real-time. The messaging can be tuned based on location within the building as well as the region where the facility is located.
Human Relations Information System (HRIS)
In FY2021, JSR NAHQ implemented a new Human Capital Management system, WORKDAY®, to automate, streamline, and manage core HR processes. The new system manages talent acquisition and management, onboarding, learning and training, and other employee-based activities. It also provides managers better tools to support employee development and improved people analytics. The self-service aspect of this system allows employees to update personal and contact information in real time.


During the reporting period JSR conducted the following activities:


Vitality activities
• Company 30-year Anniversary
• Annual Company Summer Picnic
• BBQs
• Halloween Party (virtual and onsite)
• Thanksgiving lunch
• Holiday Party (virtual and onsite)


Volunteering activities
• The Leukemia & Lymphoma Society volunteering activity
• Donations programs aligned with multiple campaigns/charities including, but not limited to,
- Earth Day
- Light the Night
- Giving Tuesday
- Disaster and Crisis Relief
- Covid-19


Wellness activities
• Health and Well-being seminars and webinars on variety of topics including, but not limited to:

- Preventative Care

- Mental and Emotional Well-being

- Financial Planning and Well-being

- Caregiving
• COVID-19 vaccine webinar
• Steps contest
• On-site flu shots
• On-site and virtual exercise classes
• Employee off-site sports teams
• Safety Month (June each year)


COVID-19
Please see Pandemic Response.


EMPLOYEES, SPECIFIC DISCLOSURES:




GRI 2-16 (2022) Communication of critical concerns
Please see the Quality section for additional information on the Employee Reporting Portal.
GRI 401-1 (2016) Employee new hires and turnover