Key features of JSR cathode binder (TRD202A)
1. Hybrid polymer design;
2. Water based emulsion, no organic solvent processing needed;
3. Increased adhesion properties result in reduced binder loading;
4. Stability at high voltages allows use in next generation battery technology;
5. Low internal resistance imposed by TRD202A leads to improved high rate charge / discharge behaviour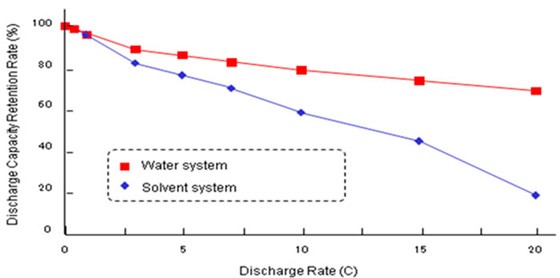 JSR is offering an aqueous hybrid polymer emulsion for use as a cathode binder in a variety of Lithium Ion Battery chemistries, such as:
Lithium Iron Phosphate (LFP)
Lithium Nickel Manganese Cobalt Oxide (NMC)
Lithium Nickel Cobalt Aluminium Oxide (NCA)
Lithium Cobalt Oxide (LCO)
Lithium Manganese Oxide (LMO)
In contrast with conventional binders available in the market, JSR%u2019s unique technology can resist higt voltages. This is due to the polymeric design of the Fluor Acrylic Emulsion (FAE) and allows the use with next generation cathode materials without the issues usually observed.
With JSR's unique binder technology, you can benefit from all the advantages of water based processing on cathode side. In combination with our anode binder the entire LIB production process can be made solvent-free. This will have a huge impact on the operating and investment cost.
For contact and ordering information for Europe, Middle-East, Africa and India, click here
JSR also has water based Anode binder available.